In a Facebook group that I am part of we all decided to share photos of our workspace.  I found it so fun and inspiring to see everyone's "sacred" space that I thought I would share mine here as well! 
I call it "sacred" because this is where the action is, where the wheels turn, where the magic happens!  My studio sits on the second floor of our home overlooking my upstairs patio which overlooks a grand view of giant oak trees and a creek below.  Because we are built on a hill, I am essentially 3 stories up, therefore just eye level of the trees, just short of the treetops! My view in the Summer and Fall is mostly every shade of green you can imagine! And lots of birds and squirrels! 
This is my view from the worktable I spend most of my time at: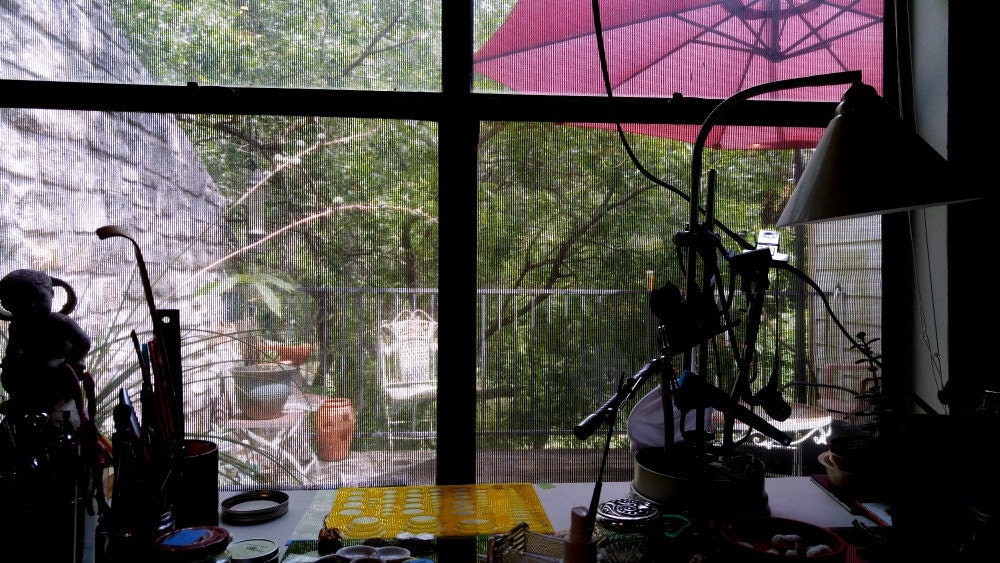 As you can see... its mostly green leaves and the occasional birds, squirrels and even deer... unless my studio helpers (ie: furbabes) see them out there and chase them away!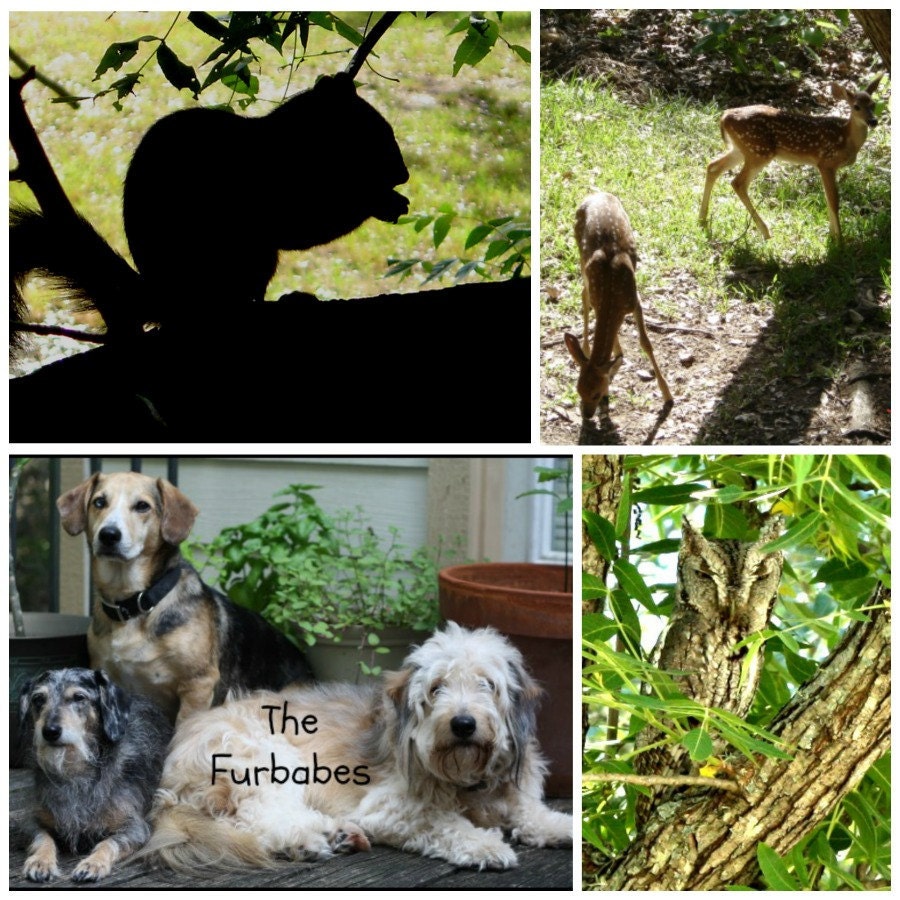 Here is the view from the patio itself.  This was taken during the Spring when the leaves have not overtaken the view of the creek.  Lots of time is spent out on this  patio on good weather days. I get most of my inspiration from nature and it's amazing organic beauty!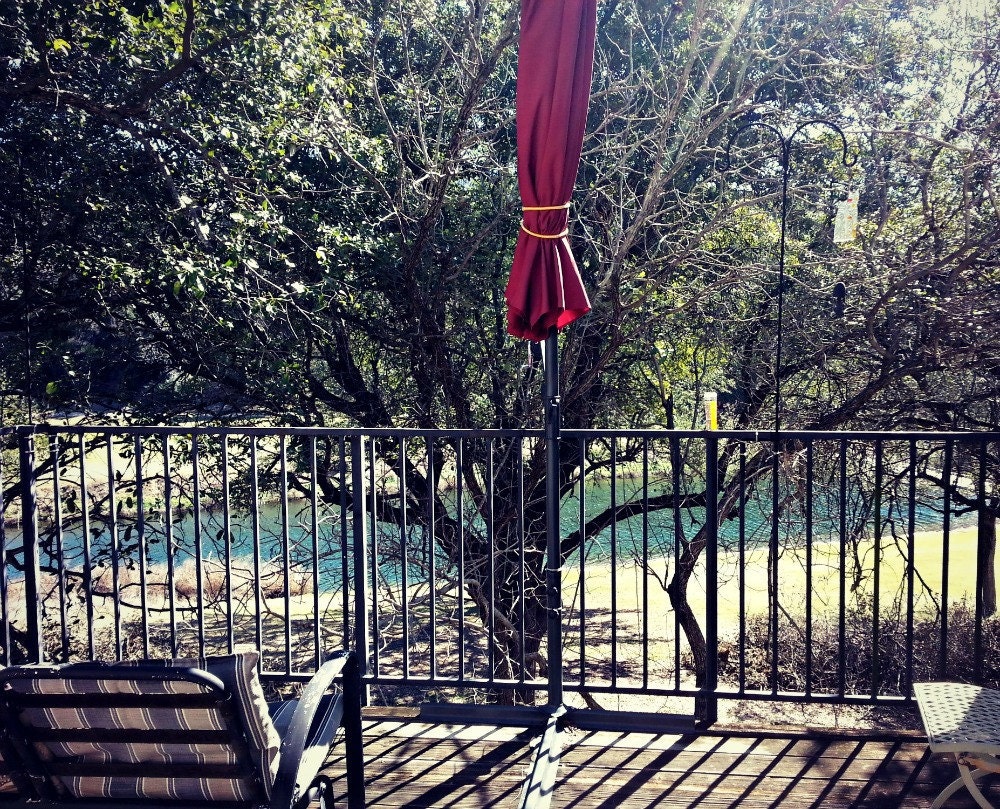 So now you see why I don't get as much done as I should! I spend a LOT of time out here! 
Back inside now so you can see where I actually create!
This is a panoramic view right after I did a major redo on the studio, adding a new workbench off to the left and creating extra workspace under both windows. 

My space is really quite large... it is formally intended as a bonus space right as you come up the stairs.  Bonus for me! That's an understatement! I'm Blessed! As you can see I have taken advantage of every bit of the wall space and the walk in closet in the back left corner of the room. 
The studio has taken on many forms and purposes over the 9 years we have been here. Especially since I have created in so many different genre's!  Now that I'm focusing on metalsmithing it is perfectly laid out for me. 
Off to the left is my power tools workbench where I keep my table saws, polishing tumbler, buffing wheel, bench vise and "not so portable" flexshaft. I do my soldering and enameling at this workbench.  
The tables under the windows are where I do my designing, sculpting and chaining.  (oh and daydreaming!)  I also have my computer close at hand so I can easily look things up when needed. (and say hi to all my FB friends! "Hi!")
Under these tables is where my studio "helpers" hang out... they wouldn't have it any other way. If I didn't make a space for them... they would literally lay at my feet anyway! Such sweeties!!!
Here are a few close ups: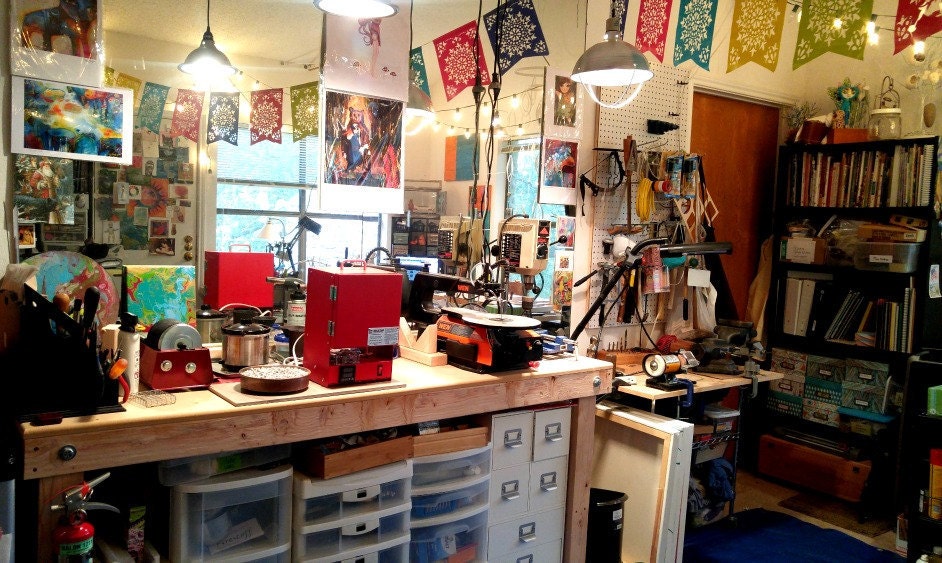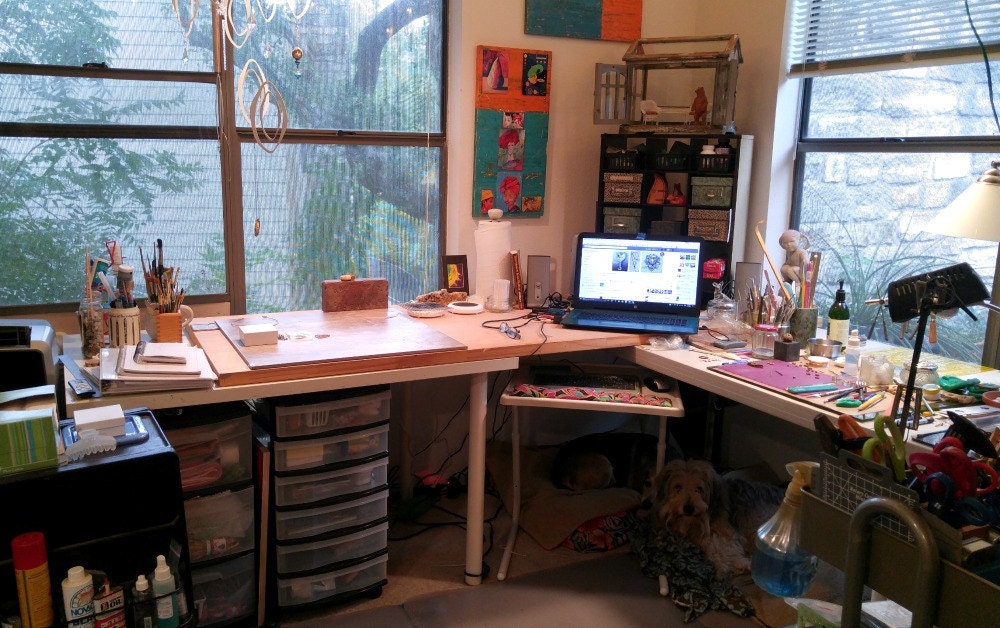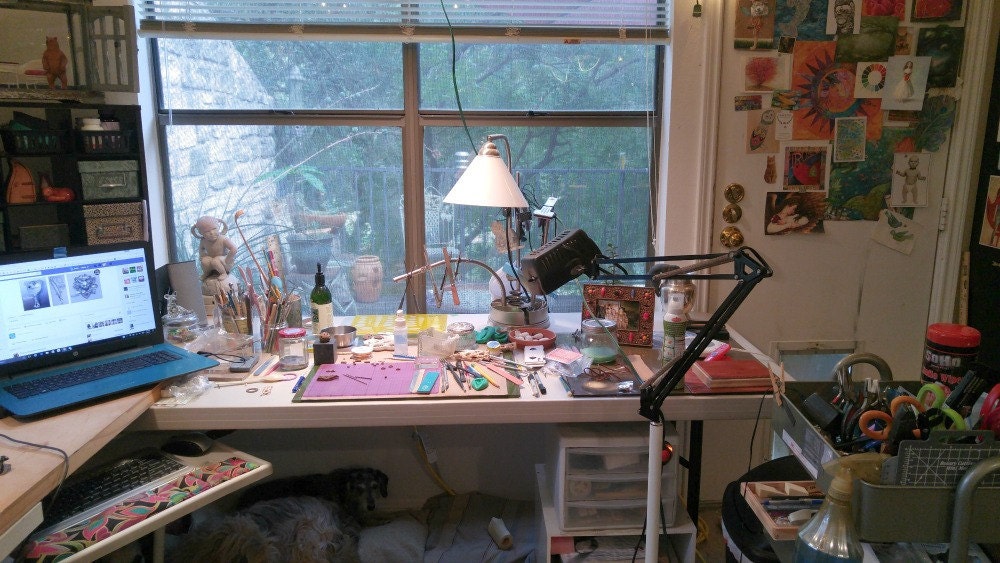 Hope you enjoyed the tour!  Feel free to ask questions if you have any! 
Thanks for dropping by! 
Selah